---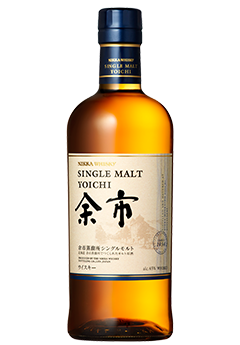 Nikka Yoichi Single Malt Japanese Whisky
£
79.99
---
45% alc/vol 70cl
Nikka Yoichi Single Malt Japanese Whisky. This is a single malt from the Yoichi distillery, Nikka's first distillery built in 1934. The founder Masataka Taketsuru chose Yoichi in Hokkaido because of the similar environmental conditions to Scotland, where he learned whisky making. Yoichi single malt has pleasant peaty notes and smokiness originating from the traditional direct coal-fired distillation as well as a briny hint delivered by the sea breeze during the aging process.
Nikka Coffey Malt awarded TROPHY at ISC 2017
Nikka Coffey Malt awarded TROPHY for grain whisky at the International Spirits Challenge 2017 tasting awards. Nikka Whisky Chief Blender Tadashi Sakuma attended the ISC awards dinner and collected the trophy on behalf of the company in London on Wednesday July 12th.
Comments by Tadashi Sakuma
It is a great honor that our signature grain whisky Nikka Coffey Malt was awarded a trophy at ISC 2017, the third for Nikka following two past trophies for our blended malt and blend whiskies. This significant achievement will be a great start for the launch of Coffey Gin and Coffey Vodka, and encourages us to pursue further innovation.
Nose
: Full-bodied, smooth. A mellow peat softly coats the aromatic palette at first, growing more powerful with time, as smoke, soot and salty notes transcend the initial nose. The aromas then evolve towards candied citrus fruit (lemon, orange), black liquorice and spices (nutmeg, ginger), and opens up with roots and dried twig aromas. Heady and floral (carnation, iris), it grows increasingly complex.
Palate
: Firm, powerful. A well-balanced attack gives equal footing to aromas of peat, smoke, spices, fresh fruit (melon, kiwi) and nuts (almond, walnut), which it delivers in spades. The mid-palate starts off with chocolate notes, but the peat soon takes the lead once again.
Finish
: Long, silky. Extremely mature, it overflows with ripe fruit (pear, Mirabelle plum, apple). The peat starts taking on an herbaceous and malty character, while the salty flavours gives the finish plenty of depth and coastal freshness. The final nose offers menthol, spicy (coriander, dill) and earthy (leather, chestnuts) notes.
Read more
---
Low stock -
1 remaining
Add to Basket
---
---
Related products