---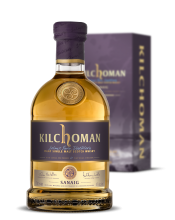 Kilchoman Sanaig
£
49.99
---
46% alc/vol 70cl
Kilchoman Sanaig Sanaig, a small rocky inlet North West of the distillery is the name given to this continuously available release. Sanaig has a predominantly sherry cask influence owing to the significant time spent in oloroso sherry Hogsheads. These aged oloroso casks contribute a drastically transformed depth of colour and character compared to the mostly Bourbon cask matured Machir Bay. 
"A beautiful marriage of bourbon and sherry maturation balanced with classic Islay peat smoke and light citrus sweetness"
Anthony Wills, Founder. Sanaig was awarded Best Single Malt Scotch Whisky - Non Age Statement at the IWSC 2016. Kilchoman is the first distillery to be established on Islay in over 124 years. The distillery was built in 2005, with the first run of new spirit comming off the stills later that year. Kilchoman is one of the smallest distilleries in Scotland with an annual production of approximatley 120,000 litres of alcohol. Kilchoman is one of only six distilleries to carry out traditional floor maltings, but the key difference at Kilchoman is that the barley is grown here on the farm, whereas other distilleries purchase barley from around the country. Anthony Wills, the founder and managing director of the Kilchoman Distillery Co Ltd ran his own independent single cask bottling company for 8 years when he came up with the idea of building a farm distillery. The interest in malt whisky has been growing steadily since the early 1990's, and enthusiasts and connoisseurs have become more and more interested in purchasing limited edition releases from various distilleries – so why not the ultimate farm distillery – 'taking whisky back to its roots'.   Whisky distilling started on farms all over Scotland and, especially on the west coast, and it was no accident that Islay became famous for whisky production. Islay is very fertile and therefore growing barley was no problem, it had plenty of water and peat for drying the malt.
Read more
---
Out of Stock
---
---
Related products